The Kreuzberger Kinderstiftung is committed to educational justice and youth engagement. It funds projects, grants scholarships and manages its own programs – in Berlin-Kreuzberg, Germany and beyond.
Please note: Our working language is German. Therefore, this is our only page in English. However, please do not hesitate to contact us in English: info@kreuzberger-kinderstiftung.de
Highlight of the Year: The Scholarship Celebration
Every summer dozens of new scholarship holders meet in our garden before they start their school year abroad. Their families as well as donors, partners, supporters and friends of the foundation get together to wish them a good time abroad.
For educational justice and youth engagement
We believe in the abilities of young people, support their ideas and provide education opportunities. We focus on those who only receive little support from the education system, from their parents or from their social environment.
With funding, grants and our own projects
The Kreuzberger Kinderstiftung creates opportunities and safe spaces where young people can grow and develop. They engage in political processes, discover their potential, learn to appreciate diversity and overcome challenges, and thereby become more self-confident and responsible.
In Berlin-Kreuzberg, Germany and Europe
Our foundation is based in the district of Berlin-Kreuzberg. Here, we support many local projects for children and youth. But our commitment does not end at the district boundaries: With Kreuzberg values such as tolerance and flexibility, the desire for innovation and the belief that diversity is positive, we are active in Germany and Europe.
Our organization consists of two parts: The Kreuzberger Kinderstiftung (Stiftung bürgerlichen Rechts; non-profit foundation under civil law) was established in 2004 by lawyer and entrepreneur Peter R. Ackermann. It implements our local programs. In 2014 the Kreuzberger Kinderstiftung gemeinnützige Aktiengesellschaft (non-profit public company) was founded. It is in charge of all other programs. With this legal form, we explore new avenues for participation in the non-profit sector. In the future, more and more shareholders will shape our organization. Of course, they do not have a financial benefit from being a shareholder of a non-profit organization. Instead, they support our efforts in the fight for educational justice and youth engagement. Our goal is to involve more people in our work and to delegate responsibilities to those that are best prepared for them.
For many years, we have considered the participation of young people in our organization to be of vital importance: Each year, our Youth Advisory Board (link is in German) decides on grants totaling more than 100,000 euros.
Our organization is funded through private donations. Without donations our work would not be possible. This year we expect to spend over a million euros on our activities for young people.
Our volunteers, board members and employees have been working for years, in some cases decades, for educational justice and youth engagement. This commonality drives us, just as the diversity of our personal and professional backgrounds enriches our work.
We present our board and employees here (links are in German). We all look forward to welcoming you to our foundation in Berlin-Kreuzberg!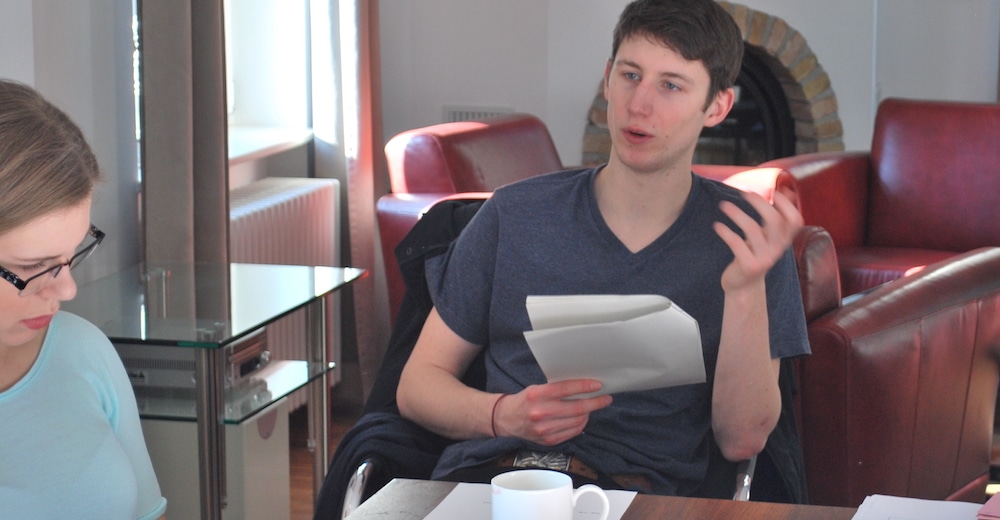 Tevin: fellow, member of our Youth Adivory Board and donor
In 2011/2012, as one of our scholarship holders Tevin Schneider spent a scholar year in the United States. Afterwards, he has participated in our Youth Advisory Board. In 2017, he donated € 250 – from his trainee salary – for our scholarship program. In 2019, he was elected as a supervisory board member.
Why a non-profit public company?
Charitable work can be organised in many different legal forms. Which form is the best depends on the organization's individual necessities.
At the Kreuzberg Children's Foundation we took, after 13 years of existence as classical foundation, 2015 the unconventional step to newly found a non-profit public company for all upcoming projects and sell it's shares to private persons. Why did we decide not to continue our work as a foundation in the conventional legal form?
For the following five reasons we concluded that a non-profit public company was the best organisational form for us: A non-profit public company is more efficient. Different from conventional foundations, not only interest payments, but all capital can be used for charitable projects. Once officially recognised, statutes of classical foundations can rarely be altered. In a non-profit public company, however, the shareholders can modify the statutes with a qualified majority, if new circumstances require new directions. A foundation only has to report to state authorities, while a non-profit public company must make all it's balances public. The board of directors of a conventional foundation is usually not accountable to any other body. The board of directors of a non-profit public company however is appointed and controlled by a supervisory board. While a classical foundation´s board of directors often appoints a successor, in a non-profit public company the supervisory board elects the board of directors, hence reducing the risk of nepotism and therefore ensuring effectiveness.
At the Kreuzberg Children's Foundation we want to follow the ideal that decision making should be organised from bottom to top. Every shareholder has one vote in the general meeting and can therefore participate in all important decision making processes. With their votes in the general assembly, the shareholders stake out long term developments in the non-profit public company. They decide on topics and means of financing of our programs and vote on the members of the supervisory board, which in turn appoint the executive board. This participatory principle allows shareholders to insert their expertise and ideas, promote new projects, and actively participate in the operative work of the non-profit corporation. Regularly held meetings take place to discuss new topics and ways to enhance the effectiveness of our work.
Funding programs
With our funding programs we support projects of other non-profit organizations. We are especially happy to promote activities that are planned and organized by children and young people themselves. In addition to our Germany-wide program "Civic Engagement of Children and Youth" we support youth projects in Greece (links are in German) to offset the effects of the economic crisis.
Scholarships
By awarding scholarships we allow teenagers and young adults access to education and intercultural experiences. Since 2009, we have given German students who attend secondary education schools (Mittel- und Realschulen; schools which are often considered as lower education) the chance to spend a school year abroad (link is in German). Over 540 young people have been granted stipends.
The experience of being abroad is invaluable for the personal development of young people, but many German students that do not attend the Gymnasium (considered as higher education, often leading to studying at university) very rarely have access to these experiences. 95 % of young people who spend a school year abroad are gymnasium/high school students. We believe that intercultural experiences should not be a privilege exclusively kept for those with access to higher levels of education. In addition to focusing on non-Gymnasium students, we support intra-European student exchange. We aim to bring together the youth of Europe, thereby strengthening the unification of our continent in these challenging times. Due to the same motivation, we also grant stipends for a three-week study trip (link is in German) for young people to Greece.
Our IKAROS Scholarship (link is in German) gives young people a second chance to obtain an educational degree. There are many factors that lead to dropping out of school – and at least as many good reasons to return to school for a degree or professional qualification. This scholarship enables highly motivated young people access to the necessary financial support in order to independently continue their studies.
Local programs for children
At the Foundation headquarters in Berlin-Kreuzberg we conduct our own programs for children and youth. These include a Children's Choir, a canoe group ("The Spree-Bears") as well as an Urban Gardening Course ("The Garden Pirates") (links are in German). The garden is used more than 150 times a year by groups of young people of different age groups. Children can play in the garden, climb on our treehouse, harvest fruits and vegetables, or jump on our trampoline. In addition, youth groups use our garden and our house for seminars and parties.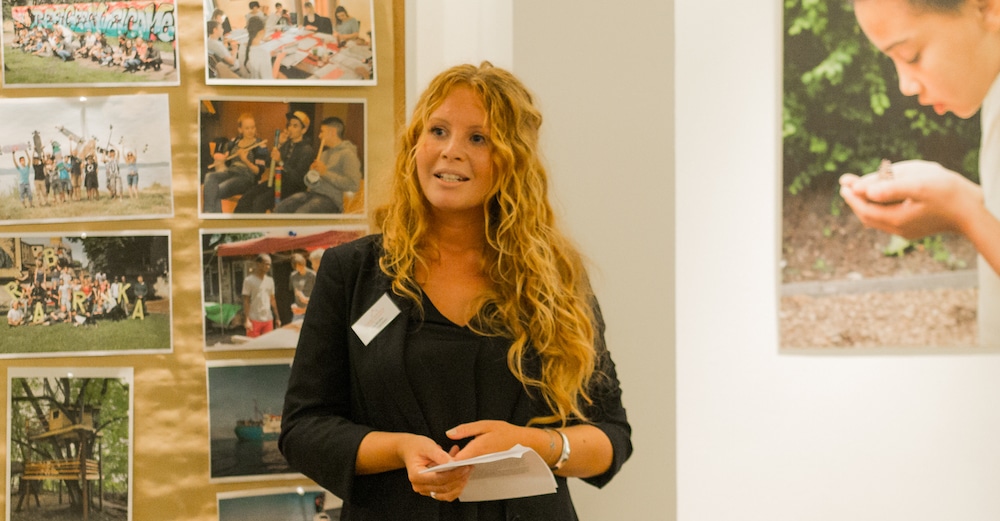 Lisa: fellow and shareholder
Lisa Brüßler, student and expert for Greek politics and culture, got to know the Kreuzberger Kinderstiftung through a travel grant. After her study trip in Greece, she has supported our funding program "Youth Projects in Greece" with her time and expertise. In 2017, she became a shareholder of our non-profit public company. In fall 2016, she talked about the situation of young people in Greece during an event in our foundation.